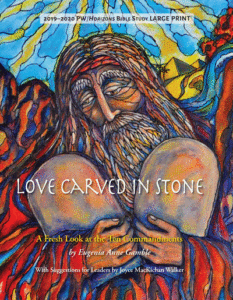 Monday, Febuary 20th | 7 p.m.
Home of Maria Berry | 14923 E. Summit Dr.
This month Maria Berry will be leading the sixth study in Love Carved in Stone: A Fresh Look at the Ten Commandments, entitled Words of Love: Hold Your Marriage Sacred. This month's discussion will be centered around understanding God's desire for deep and faithful relationships in the human family and how behavior can devastate people and communities. Janet Scaggs will be our hostess.
For information contact Donna Yordy, leader, at 480-837-6169, dyordy3@yahoo.com.
Evening Cirlce is generally held the third Monday of each month at 7 p.m. at the home of Maria Berry, 14923 E. Summit Dr, Fountain Hills. Please call/text her for the gate code at 602-799-9982.
Our Circle is for all Presbyterian Women — each is welcome to participate in our study and fellowship. If you need any additional information or need a ride please contact Donna Yordy at 480-837-6169.