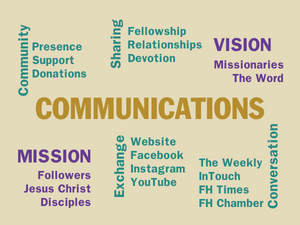 The Church and Communications
Effective communication is the best way to call people towards ministry. Turning ideas and messages into action is a hope for any congregation. Consistent communication helps to keep people informed. At the bare minimum, communication keeps everyone on the same page about events, deadlines and expectations.

The Communications Ministry reaches the congregation and our community by using a variety of tools to inspire, inform, and invite participation in the life, mission, and purposes of the Church.
If you have news to share or an upcoming event to promote, the Communications Ministry is here to help.
We suggest you start communicating with us the moment you start talking about it in your ministry teams. Once it goes on the church calendar … come talk to us!
It's important to think about placement. Who is your audience? Is this a church-wide only event or a community-wide event?
– Kathy Cole, Elder (2023)
– Jeff Rand, Elder (2025)
– Marta Ludwig, Admin Coordinator
All correspondence with the Communications Committee should be send by clicking the link below:

Order of Worship
The Communications Ministry creates the "script" for Sunday worship services with input from the pastor, music director and pianist. We share it via a worship eBlast on Saturdays and upload it onto FHPC's website at: www.fhpresbyterian.info/sunday-worship-services/. Congregants can view or print the Order of Worship from either source.
Pulpit Pitch
Presenting information during worship service or including an announcement in Pastor's "Shared Life" segment of the worship service is coordinated by the Communications Ministry.
Each week the Communications Ministry develops slides that mirror the Order of Worship. Slides are projected on screens to help congregants follow along during service.
Additionally, we create announcement slides for upcoming events and initiatives for pre-worship viewing. We also accommodate special requests for slides or videos to support guest speakers, liturgical events or church initiatives for use throughout the worship service. Deadline for submissions is Tuesdays by 3 p.m.
The Weekly
Each Thursday, the Communications Ministry sends out news about our church, upcoming events, and spiritual and social opportunities via email in a product entitled The Weekly. Deadline is Tuesdays by 3 p.m.
The Communications Ministry creates a monthly newsletter, In Touch, with more in-
depth articles written by church leaders as well as updates on church ministries. Deadline is the 15th of the month by 3 p.m.
Press Releases
We write articles and photo captions and package them with photos and graphics for distribution to the Fountain Hills Times as well as the Fountain Hills Chamber of Commerce.
Advertising and Graphics Design
The Communications Ministry helps develop and coordinate creative projects or publicity campaigns for church events and community involvement with regard to print, web & multi-media advertising. We can help with ministry campaigns, graphic designs, videos, posters, flyers, banners, and newspaper ads. Be sure and give us as much time as possible to help you with your events … even if it's down the road. If you have any questions about a particular job, or how it should be done, please consult with us.
Additional Communications
Audiovisual Productions
The Communications Ministry produces all worship services which includes audiovisual support for both in-person worship and our online livestream. We also provide audiovisual support for memorial services and special events in the sanctuary and in the Fellowship Center.
We also oversee contracted personnel who operate the audiovisual equipment during services and events. We also serve as points of contact for audiovisual equipment upgrades within the sanctuary and Fellowship Center.
Website and Social Media
The Communications Ministry directs and manages the Church's website (www.fhpresbyterian.info/) and social networking presence — Facebook page and YouTube channel — by ensuring that pertinent and prominent information about ministry events are routinely shared and updated.