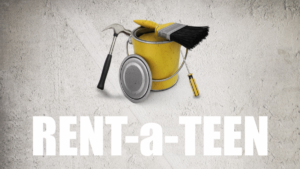 To raise funds for their service/fellowship trip to California in March, the Youth Group will "Rent-A-Teen" to members of the FHPC congregation. Need help around the house or in the yard? Call on our Youth Group to help you and in return, make a donation to support their trip! Call/text Tim Schlum at 480-436-0412 to schedule a "Rent-A-Teen" meeting sometime in the next two weeks!
FHPC Youth Group students will leave for California on Friday, March 20th for a weekend of fun and service. We will partner with Christ Pacific Church, an ECO Presbyterian Church, which will lodge our group for two nights, joining efforts in a couple of service projects like feeding the hungry and assisting homeless people. Mixed in with our service projects we will also enjoy a day at Disneyland! On Sunday morning, we will go to church and then to the beach where we will be doing baptisms in the ocean.
It's going to be a very impactful trip, but it's a trip that costs $6,700 and we've only raised about $2,200 so far and have to raise the remaining $4,500 by Thursday, March 5th!
Thank you all for the support in the past we really couldn't do it without all of your support. God Bless!