JOIN US!
Become a vendor at the Fountain Hills Presbyterian Church's monthly Flea Market which will be held on the first Saturday of each month, October 2023 – April 2024.
Please note our new hours are 8 a.m. to 3 p.m.

BOOK BELOW! Through this online reservation system, you are able to purchase "tickets" for the rental of one or more parking lot spaces (space = seat) for $25 each with the ability to select your desired space (seat) in our parking lot layout (seating plan). Also, you can purchase table/chair tickets (rentals) for use in your space at $5 each. Note, the furniture will be set up in your space prior to your arrival.
We accept all major credit/debit cards.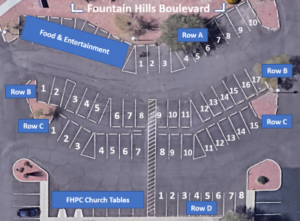 NEED HELP TO COMPLETE YOUR RESERVATION?

Vendor reservations for Janauary – April 2024 will open December 4, 2023

Presby Pickins' Flea Market at Fountain Hills Presbyterian Church
13001 N Fountain Hills Blvd, Fountain Hills AZ 85268
Email: ppfleamarket@gmail.com | Phone: 480-779-8115