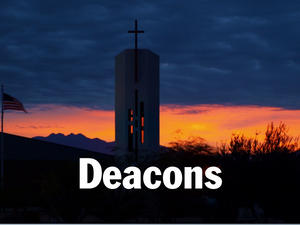 FHPC Bylaws – Article VI.A.8-9: Amendments
There shall be a Board of Deacons consisting of no fewer than three (3) and no more than twelve (12) Deacons elected by the Congregation to serve a term of three (3) years.
It shall be the duty of the Board of Deacons to give general care to the members of the congregation and any other duties given to the Board by the Session. The Board shall elect from its Moderator and any other officers or committee chair necessary for it to perform its functions.
Birthday Calls
Cards

Food Ministry

Homebound Ministry

HomeTouch
Memorial Services

Military Ministry

New Members Ministry
Plants

Transportation