October, 2020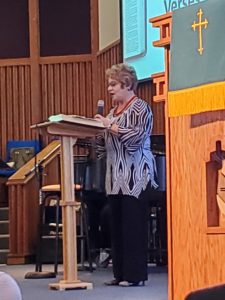 Dear Brothers and Sisters in Christ,
Did you know you are alive and well today because of the seeds someone else has sown? What did you eat this morn-ing? Where did it come from? It starts with a farmer and a bag of seeds. In faith those small seeds are planted in the ground, they grow into a huge harvest and 100's of people can eat the results.
2 Corinthians 9: 10-11 says: " This most generous God who gives seed to the farmer that becomes bread for your meals is more than extravagant with you. He gives you something you can then give away, which grows into full-formed lives, robust in God, wealthy in every way, so that you can be generous in every way, producing with us great praise to God." Our wallet is like the bag of seeds. When we plant the seed of good we will see a harvest. Though our harvest is not wheat or corn – it is people encountering God for the first time, It is hearts being changed. Lives being transformed. All glory to God!
We all know those of this church who came before us. They sowed SEEDS in this church so we could be here now! Worshiping in the sanctuary, enjoying fellowship, attending meals, Bible studies, Women's Fellowship, Men's Fel-lowship, choir, youth activities, Foundation and Columbarium stewardship. Your Elders and Deacons caring for the church and its members.
Now, it is US who must sow our SEEDS today for the future of Christ's church here in Fountain Hills, the communi-ty and into the world. PLANT SEEDS!
Love Gives…
John 3:16 is a verse most of us know well but have you ever thought about it in terms of giving? "For God so loved the world that He gave His only begotten Son, that whoever believes in Him should not perish but have everlasting life." God gave His only Son. Why? Because He loves us, and that love meant he had to do something. Love requires action. In the same way you give someone a gift, not because they expect it or you feel obligated to give it, but be-cause YOU LOVE THEM. It is a natural response.
Soon, you will be asked to give your tithes or pledges, your financial gifts, SEEDS. But do not give out of a feeling of obligation or routine or guilt. Give because you love this church. Give because you love this city. Give to the glory for our Lord and Savior, Jesus Christ.
Love, Peace and Blessings to you all!
Arlene Stewart, Elder
Stewardship 2021
Why Pledge Online?
Makes pledging easy & convenient,
Confirms your pledge instantly to you by email,
Transmits immediately to FHPC,
Saves postage and paper,
Reduces FHPC efforts & costs.