Flutist Dianne Winsor holds degrees in Flute Performance from the New England Conservatory of Music and the Boston Conservatory of Music. She recently moved to Arizona from Spain, where she served as Principal Flute of the Orquesta Sinfonica de Castilla y Leon for 31 years. A longtime member of the National Flute Association, Ms. Winsor will be performing at the annual NFA Convention in Phoenix in August 2023.
Oboist Patti Backes holds a degree in Music Education/Oboe from the New England Conservatory of Music. Her studies continued as she received a Masters in Education from Connecticut College and a Masters in Oral Traditions from The Graduate Institute. Patti retired in 2017 after a 37 year long career teaching music and performing in chamber groups, orchestras, and pit orchestras in Connecticut. She and her husband moved to Arizona in 2018, first as "snowbirds," and now as permanent residents.
Dr. Charles (Bud) Sessions, Clarinet, holds a Doctorate in Music Education from the University of Southern California. He holds Bachelors and Masters Degrees in Music from the University of Arizona; Professor Emeritus at Scottsdale Community College and retired founder/director of the Scottsdale Concert Band; Founder/Director of the Scottsdale Community College Summer Music Camp for middle school students; Elder of the Mountain View Presbyterian Church and member of the Sanctuary Choir. Bud taught high school bands for 10 years where his bands and orchestras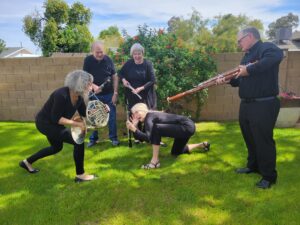 received top honors. He has played professionally with the Phoenix and Mesa Symphonies and local dance/show bands and is also an active member of the. Desert Sands Trio. Bud is also a veteran of the U.S. Army.
Bassoonist Marty Haub is a retired math teacher and now plays in several orchestras in the East Valley. He also has been a conductor of the Chandler Symphony and the Scottsdale Philharmonic. In his first two years of college he played in the Scottsdale Community College Band under the direction of our clarinet player, Bud Sessions.
Stacey D'Abate, French Horn, is a retired corporate director from the Revlon Corporation. She left her corporate life to pursue her love of music and currently plays in the Arizona Winds Band in the West Valley. She is actively involved in music ministries with the Alleluia Orchestra and Scottsdale Bible Church. Stacey spends her summer months in Montepulciano Italy with her husband and is now a member of the Poliziano Orchestra in Tuscany.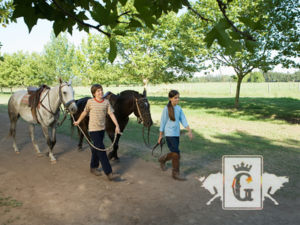 FHPC and the Sonoran Quintet are teaming up through this concert to raise funds for scholarships to Reigning Grace Youth Ranch. The Ranch offers programs to help youth with PTSD, ADHD, depression or anxiety.
This effort will specifically benefit students attending a Fountain Hills Unified School District school. Click HERE to read more about the need for support.
The cost per child is $400 for an eight-week session. Your contribution will make an impact, whether you donate $5 or $500. Every little bit will work toward helping our young people.
If you are unable to attend the concert, but still wish to donate to this cause, please click HERE.
Concert Overture in C Major, K.212
W.A. Mozart, Arr. Alan Hawkins
Pavanne – 2nd Mvt of American Symphonette No. 2
Morton Gould | Transcription – R.E. Sheldon
Quintet in F Major op. 68 Nr. 2 Mvt 4 "Allegretto"
Danzi
Selections from The Sound of Music
Richard Rodgers (Lyrics -Oscar Hammerstein) | Arr. Bill Holcombe
Summertime (From Porgy and Bess)
George Gershwin | Arr. Martin Haub
The Roaring Twenties
Arr. Paul Nagle
Ragtime Dance
Scott Joplin | Transcribed by W. Drake Mabry

Donate Now