FHPC Commits ~
Each month we will spotlight a different Fountain Hills Youth Group. We encourage our youth to connect with the community at the Flea Market, by sharing information about their program, to volunteer to help, or to sell merchandise. FHPC strives to make a difference in the lives of our youth and is committed to sharing a portion of the Flea Market proceeds to support their efforts. If you are a Fountain Hills Youth Group interested in participating in Presby Pickins, please click HERE to contact us.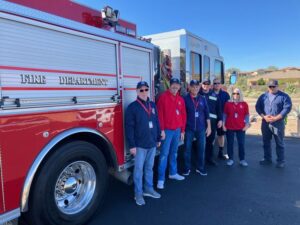 March Presby Pickins Award
At the March 4th event, the Fountain Hills Crisis Response Team shared information about their efforts to raise funds for scholarships for Fountain Hills at-risk youth to Reigning Grace Youth Ranch.
In addition to the $100 Presby Pickins' award, $179.62 was raised in donations.
Click
HERE
to read more about the CRT's efforts.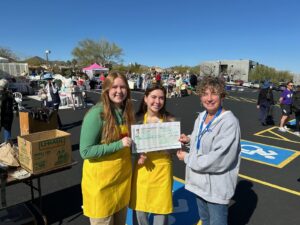 February Presby Pickins Award
Fountain Hills High School's "StuGo" was the recipient of the February award. Several of the students volunteer at our Flea Market, from early morning set up to afternoon break-down, earning community service hours. These funds will help finance their projects and events.

January Presby Pickins Award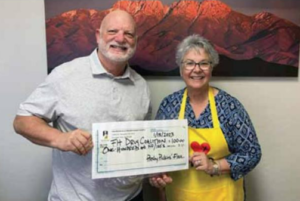 This month Presby Pickins' was pleased to award $100 to the Fountain Hills Coalition, (www.fhcoalition.org) for their mission, "To achieve sustainable reductions in substance abuse among youth in Fountain Hills and the Fort McDowell Yavapai Nation."

December Presby Pickins Award
Fountain Hills Kiwanis K-Kids were the beneficiaries of our December youth award. The $100 supported their Angel Tree effort.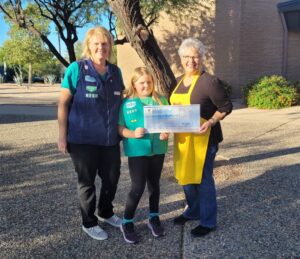 November Presby Pickins Award
Fountain Hills Girl Scout Troop 6445 participated in the November Presby Pickins, selling second hand household goods and clothing to raise money for their service projects throughout the community including Christmas angels, food bank donations and other opportunities to give back to Fountain Hills. Troop 6445 is comprised of Junior girl scouts which are 4th/5th graders who wear green vests and sashes.
For more information about Troop 6445, contact Erika Percic, Troop Leader & Neighborhood Co-Manager at 480-239-5010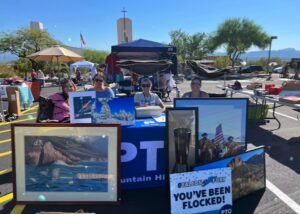 October Presby Pickins Award
FHUSD PTO participated in the October Flea Market, selling Discount Cards and sharing information about the students of Fountain Hills.
Fountain Hills Presbyterian Church was please to award the PTO a Presby Pickins cash award to support their efforts. Learn more about the PTO by clicking HERE.

Sign up for PP eNews!
Get the latest news and updates about our Flea Market delivered to your inbox.

Questions?
Call the FHPC office on 480-837-1763, Mondays – Thursday, 8AM – 3PM. Or —