FHPC Commits ~
Each month we will spotlight a different Fountain Hills Youth Group. We encourage our youth to connect with the community at the Flea Market, by sharing information about their program, to volunteer to help, or to sell merchandise. FHPC strives to make a difference in the lives of our youth and is committed to sharing a portion of the Flea Market proceeds to support their efforts. If you are a Fountain Hills Youth Group interested in participating in Presby Pickins, please click HERE to contact us.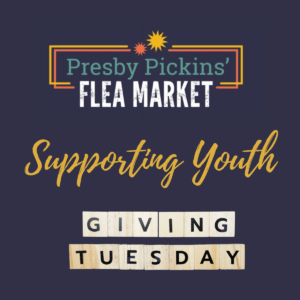 #GivingTuesday
December's spotlight will be on the Noon Kiwanis K-Kids in their support of "The Angel Tree" program which provides gifts for Fountain Hills area children who would otherwise not receive any. Presby Pickins is pledging $100 to this effort. Anyone wishing to make a #GivingTuesday donation to K-Kids to purchase additional gifts can do so now. CLICK the button below, then click BOOK NOW. Next click SELECT next to Youth Donation Only. Continue to enter your donation amount.
Thank you in advance for bringing joy to our youth!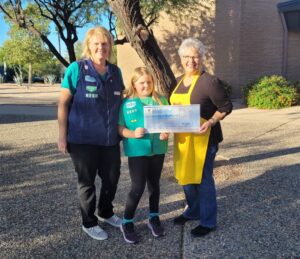 November Presby Pickins Award
Fountain Hills Girl Scout Troop 6445 participated in the November Presby Pickins, selling second hand household goods and clothing to raise money for their service projects throughout the community including Christmas angels, food bank donations and other opportunities to give back to Fountain Hills. Troop 6445 is comprised of Junior girl scouts which are 4th/5th graders who wear green vests and sashes.
For more information about Troop 6445, contact Erika Percic, Troop Leader & Neighborhood Co-Manager at 480-239-5010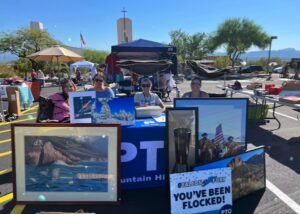 October Presby Pickins Award
FHUSD PTO participated in the October Flea Market, selling Discount Cards and sharing information about the students of Fountain Hills.
Fountain Hills Presbyterian Church was please to award the PTO a Presby Pickins cash award to support their efforts. Learn more about the PTO by clicking HERE.

Sign up for PP eNews!
Get the latest news and updates about our Flea Market delivered to your inbox.

Questions?
Call the FHPC office on 480-837-1763, Mondays – Thursday, 8AM – 3PM. Or —