Pat Covault

Memorial
Concert
FOUNTAIN HILLS PRESBYTERIAN CHURCH
~

Ticket Prices

~
Gold Section $30
Reserved Seating
(Rows 1-5)
Fuchsia Section $25
Reserved Seating
(Rows 6-7)
Open Seating
(Rows 8-11)
Narthex & Choir Section $15
Open Seating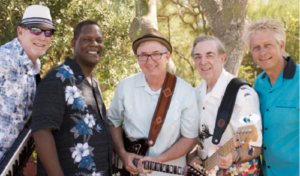 THE SOUTHWEST SURFERS
Sunday
February 27, 2022
3

:00 PM
The Ultimate Beach Boys Tribute & More
Arizona's Premier Beach Boys Tribute -Providing each audience with a fun and high-energy exciting experience. You won't be able to sit still during this show as they perform all those wonderful groups playing that "BEACH" music we all love. You'll hear a little Frankie Valli and The Four Seasons, The Surfaris doing "WIPE OUT", Jan and Dean and more.
Southwest Surfers originally was the sixth and final concert under the church's 2020 Pat Covault concert series. The church will honor tickets for the February 27th show for people who purchased and retained tickets to the original 2020 concert.
For more information or to purchase tickets,
c

ontact

Fountain Hills Presbyterian Church
Payment by check payable to FHPC can be mailed to 13001 Fountain Hills Blvd., Fountain Hills, AZ 85268. Or, dropped at the church during office hours. Unfortunately, there is no online payment at this time.