Extended Hands faces headwinds
Cyrus Guccione/Independent Newsmedia (September 28, 2023)
Every Tuesday afternoon, Extended Hands Food Bank opens its bay to families in need at 3 p.m. By 3:25 p.m. Tuesday, Sept. 26, 13 families had stopped in to pick up food supplies for the week.
"Every day, between 25 and 30 families come in," Pastor David Iverson said, executive director of the local food bank. "It's becoming normal."

Now in its 20th year, local families have been coming in droves with extended hands. And while the food bank typically holds four to five months of food supply stored away, only a month and a half of food sits on the nearly bare orange shelves that line the food bank's single garage bay.

Helping our Community in Need!
Presby Pickins' Flea Market is hosting a Thanksgiving Food Drive to benefit Extended Hands Food Bank (EHFB)!
Drop-Off
Food items can be dropped off at the church Wednesday, November 1st through Friday, November 3rd, from 9 am to 3 pm.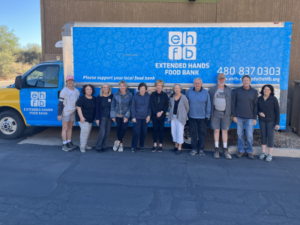 Drive-Through
During the market on Saturday, November 4, 2023, the EHFB truck will be onsite from 8 am to noon to accept donations of food items. A drive-though lane will be set up, entering through the south entrance of the FHPC parking lot at 13001 N. Fountain Hills Blvd for drop-off at the EHFB truck. Exit will be onto E. Crystal Point Drive.
Food Items Needed
We are collecting turkeys, instant or five-pound bags of potatoes, canned vegetables, such as corn and green beans, cream of mushroom soup, cranberries, gravy, stuffing, and frozen pies.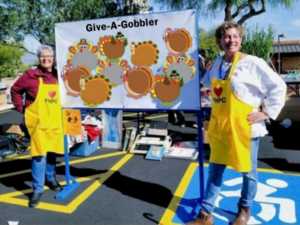 Monetary Donations
On Saturday, look for "Give-A-Gobbler" where you can make a monetary donation in your name or in the name of a loved one. Or, you may donate online anytime by clicking HERE.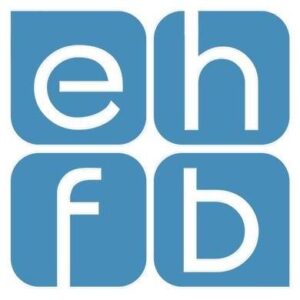 Extended Hands Food Bank
To learn more about EHFB, clicking
HERE
.