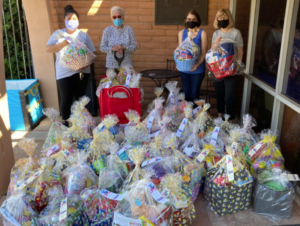 Easter 2022: Share Love, Spread Hope
FHPC's Women's Fellowship is once again sponsoring Easter baskets for the Devereux Residential Treatment Center in Scottsdale.
Our Goal: 52 fun baskets for boys & girls, ages 10-17!
Sign Up: In the Narthex on Sundays – March 20, 27, and April 3. Or call the church office at 480-837-1763.
Donate a Basket: Shop for or create a complete basket adhering to the strict "Don'ts & Do's" listed below.
Donate $25: Give monetarily and have a basket made up for you!
Online by clicking HERE;

By check payable to "FHPC" with "Baskets" written in the memo. Drop in the Offertory Box on Sunday, at the church office, (Monday through Thursday from 8 a.m. to 3 p.m.), or, mail to: FHPC, 13001 N Fountain Hills Blvd, Fountain Hills, AZ 85268.

Questions:
Contact Jane Allen, Coordinator, by phone at 907-538-3223.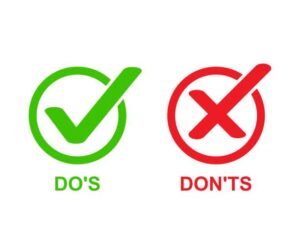 Don'ts & Do's List
Please carefully review the details of this list to ensure that the basket you make or purchase is safe for the recipients.
Click HERE for a printable copy to take with you on your shopping trip!
Extremely Important — Don't Include:
Metal: ink pen, jewelry, spiral notebook, folders w/fasteners, metal zipper;

Alcohol: nail polish, body spray, perfume, or any item containing alcohol in first 3 ingredients;

Noose: belt, scarf, headband, hoodie, pants with drawstrings;

Item containing chemicals such as white out, color markers;

Item that involves fire or melting as candles, incense, oil infusers;

Any alcohol, drugs, drug paraphernalia, cigarettes, tobacco, medications;

Item that can be used as a weapon as scissors, glass, mirrors, plastics, rope

Item used for sharpening as pencil sharpener, razor blades, disposable razo:

Gum, sunflower seeds, soda;

Any money, religious items (Bible) or symbols (on a greeting card or a chocolate cross).

Do Include:

Easter candies, other candies, food, e.g., chips, cookies, popcorn, trail mix;

Sunglasses, hairbrush/comb, toothbrush & toothpaste, soap, socks, slipper socks;

Stuffed animal, doll, pillow, throw blanket;

Coloring book, games, reading book, poster, banner, puzzle;

Ball, e.g., basketball, football, soccer ball, volleyball, hacky sack.
Learn More
Devereux Arizona serves more than 4,000 individuals with emotional, behavioral and cognitive differences each year across the state. We offer residential treatment, short-term residential treatment, a private school, outpatient services, integrated care services, prevention programs, respite services, autism services and therapeutic foster care.